FREAKOUT CLUB – giovedì 16 gennaio ore 22 – BLACK RAINBOWS + DRIED BY THE SUN + THE DALLAZ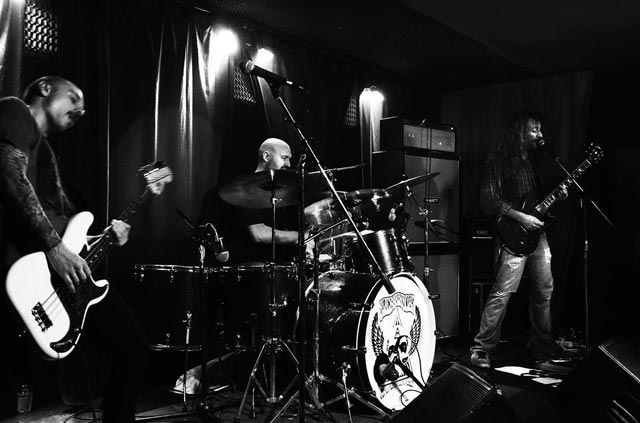 BLACK RAINBOWS + DRIED BY THE SUN + THE DALLAZ @ FREAKOUT CLUB
GIOVEDI' 16 GENNAIO
ore 22.00
•BLACK RAINBOWS
www.facebook.com/BLACKRAINBOWSROCK
Founded by Gabriele Fiori and joined by Dario Iocca and Alberto Croce.
Black Rainbows are one of the most active bands around with hundreds of shows all around the world and 4 official releases out til now!
After 3 Full Length studio album, a split with space kings Farflung and a 7" out
They are now going to release a new Ep with 6 brand new killer songs for 36 minutes of music….seems more than only an EP!! For Heavy Psych Sounds records… Featuring Aweson Artwork cover by Angryblue
They sound like a mix of 70's like MC5, Blue Cheer, Hawkwind, Black Sabbath and hard psych-stoner from 90's as Kyuss, Monster Magnet, Fu-manchu, Qotsa e Nebula.
•DRIED BY THE SUN
https://www.facebook.com/DBTSband
•THE DALLAZ
https://www.facebook.com/pages/The-Dallaz/335810825647?fref=ts
—–
INGRESSO RISERVATO AI SOCI AICS
TESSERA: 8 EURO
INGRESSO:
6 EURO -> IN CASSA
—–
at:
FREAKOUT CLUB
Via Zago 7/C
Bologna
Sotto il ponte di via Stalingrado
a 3 min a piedi da PORTA MASCARELLA
e 15 min da PIAZZA VERDI