STUDIO 54 – venerdì 30 marzo 2018 – Dj Rou was born in '91 in Bologna, while the Riviera and Club Culture were in their golden age and Felsinea's Capital was the hub of the underground scene….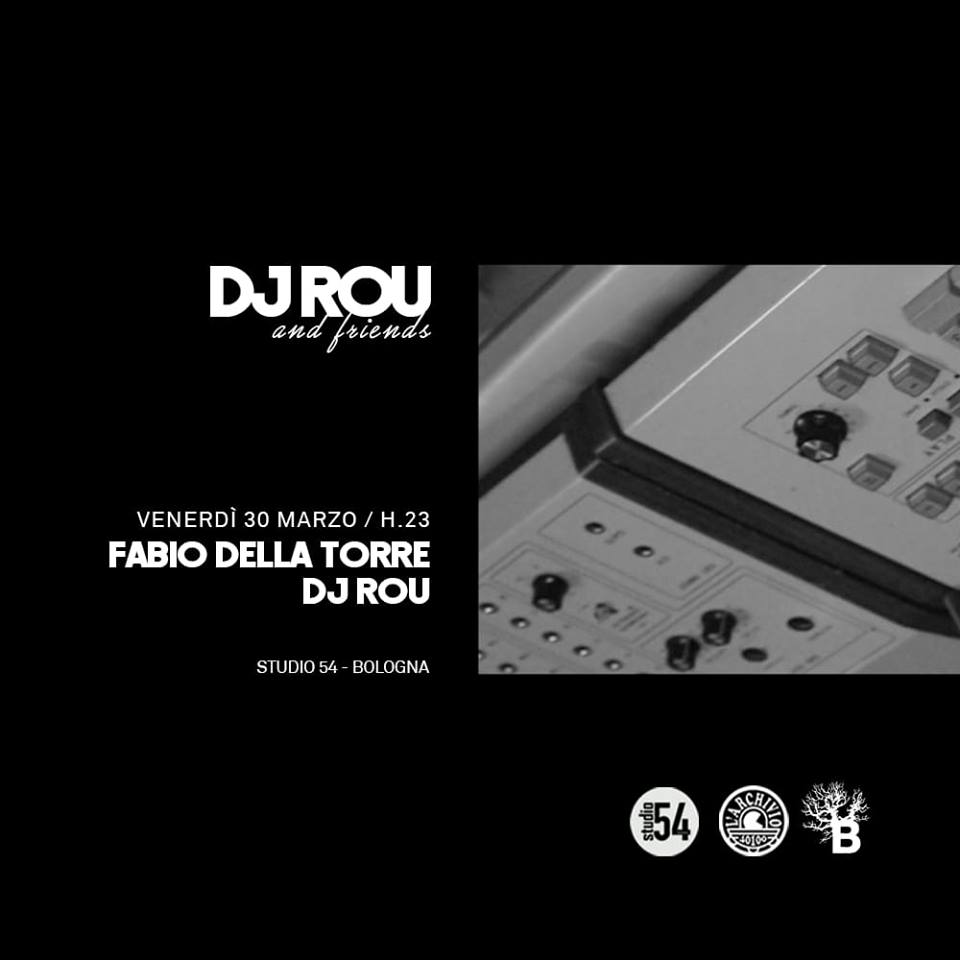 STUDIO 54
venerdì 30 marzo 2018
Dj Rou and Friends w/Fabio Della Torre
DJ SET:
Dj Rou + Fabio Della Torre (Bosconi Records)
Dj Rou
Dj Rou was born in '91 in Bologna, while the Riviera and Club Culture were in their golden age and Felsinea's Capital was the hub of the underground scene. Since childhood he was curious and attracted by music and approaches this world by taking in his father's old guitars and then as a kid, in the early 2000s, discover electronic music. In 2011, more by chance than by choice, he suddenly improves in his garage a sale of Records for friends and colleagues. This will become his current record store in 2014, a Bologna's music landmark, L'ARCHIVIO 40100. In the same year the birth of Homequest, a collective of Djs, Mcs, producers and collectors focused to safeguard the healthy passion for music and clubbing. The debut takes place with "Return To The Classics", album with strong hip hop and jazz influences published by Phil Weeks' label Robsoul Recordings. The 2015 marks the birth of Red Rooster Records, record label of the Bolognese producer D'Arabia, friend and 'partner in crime' of DJ ROU. The first two releases inside have a path dedicated to the quality of a musical thought similar to 'Back to the Roots'. While 003 release see an awesome collab with veterans Minimono and Memoryman aka Uovo, giving results of a complete and eclectic EP. Important recent affinity with Florentine crew and label Bosconi Records, by Fabio Della Torre, in which DJ ROU has scored a few grooves for the latest Various Artists – The Sweetest Vol. 2, with his drop 'Chillin' in the 6th Floor '. Further and several releases to be launched in this upcoming months, seeing loads of collaborations and single EPs, which demonstrates DJ ROU's charismatic and eclectic attitude pressing his path up.
Fabio Della Torre
Fabio Della Torre alias Corcos is the founder of Bosconi Records
and part of the project Minimono together with Ennio Colaci. His dj carrier begins at Tenax, Florence, in 1995. Since then he has been gigging in almost every corner of the Italian peninsula and appeared in some of the best clubs internationally. Among them we count Panorama Bar, within a Bosconi Label Night, Concrete Paris, Tresor, Dc10, Rex Paris, Flash DC to mention a few.
Fabio has currently a residency at Tenax club Florence. His surgical and spot-on mixing skills allow him to embark in versatile journeys, ranging from deep house to tech funk stuff and more quirky and minimal dance cuts, where it becomes clear the major influence from Italian progressive from the late 90's or labels like Logistic, Telegraph, Perlon and Tuning Spork had on him since early 2000. Since 2004, Fabio has produced music under pseudonyms as Minimono, Corcos, Quitefrut, Bosconi Soundsystem and with his dj name Fabio della Torre.
He has published on Bosconi records and on labels such as Concrete Paris, Vibraphone, Robsoul, Inner Balance, Telegraph,
Tunigspork, Ethique, Tenax, Oslo, and his works have been remixed by artists such as Cabanne, John Thomas, P&D, Marcel Fengler, Regen, Jay Haze, Eduardo De La Calle, Trimsound, Gari Romalis and last but not least Mr. Scott Grooves. In 2008, from the need to give his own vision of electronic dance music also coming from representative of the Tuscan and Italian, Fabio founded together with Ennio Bosconi records and a little later with his friend and DJ Rufus was born the younger sister Bosconi Extra Virgin, dedicated to sounds more disco and funk, downtempo and electronica. To date, Fabio has brought to life more seventy records on Bosconi Records, featuring an impressive number of internationally acclaimed producers: A Guy Called Gerald, Dj Nature, Andres, Paul Johnson, Scott Grooves, San Proper, just to name a few.. And some young and promising italian artists such as Herva, Life's Track, Nas1, Rufus, Dukwa, Riccio, Mass Prod, The Clover.. taking the label to a world-wide hall of fame, gaining a RA Label Of The Month feature and a label nights in clubs like Panorama Bar and Tresor.
evento facebook
https://www.facebook.com/events/341525833002977/