KINKI – venerdì 23 febbraio 2018 – <an underground fairy tale>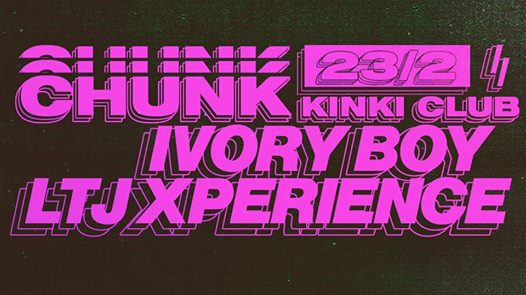 KINKI
venerdì 23 febbraio 2018
CHUNK presents Ivory Boy & Ltj Xperience
<an underground fairy tale>
THE IVORY BOY
LTJ XPERIENCE
Luca Spinogatti aka Ivory Boy
The Ivory Boy is the pseudonym behind which Italian born DJ and producer Luca Spinogatti operates. Now based in the welcoming city of Berlin, Germany, he regularly performs in the city's many club venues.
His personal and musical growth traces back to the years in Bologna, Italy, between the late nineties and the beginning of the millennium.
There, he collaborated with several artists from the local and national hip hop and funk scene, promoting one of the city's hottest parties, weekly appointment FunkyVag. During the same period he released tracks with London based Jazzman Records UK, Record Kicks, and Soupy records IT, using the pseudonym DJ TIB, and collecting a series of shows in Italy and Europe.
After a crucial stay in NYC in 2008, to complete his musical background, Luca now lives in Berlin,Germany, where he regularly performs in the city's many club venues.
In composing his tracks, he still taps into his large collection of old vinyl records, obtained through extensive crate digging in the shelves of record shops from all over the world. He then favors analog old school machinery to process the sound before the mixing process, to give his sound a distinct modern 'vintage-sample' flavor. He produced singles for notorious labels as Small World Disco, No More Hits, Box aus Holz and an exclusive 7inch (together with Brothermartin is out for Money Sex Records.
Besides his solo project, Luca performs live with Mop Mop (Agogo/Best Works).
links:
https://www.residentadvisor.net/dj/theivoryboy/biography
http://www.tsonyc.com/artists/theivoryboy
https://www.facebook.com/theivoryboy/
https://soundcloud.com/theivoryboy
Ltj Xperience
Luca LTJ Trevisi (LTJ Xperience) began his dj/producer career in the 80s. As resident dj in two of the most famous Italian clubs of the time, Kinky in Bologna and Cap Creus in Imola, he was one of the first Italian jocks to spin House and to re-propose those black music, jazz and latin-bossa classics from the 70s that at the end of the same decade would have given birth to the Acid Jazz and Rare Groove movements. His first single release in 1988, titled First Job, together with Kekkotronics, was also the first release ever on Bologna based Irma Records. It was featured in a lot of compilations of the time and entered several playlists, rapidly reaching cult status for many UK and US djs. During the early 90s LTJ delivered a couple of singles in a kind of pre-breakbeat style: Dont Stop The Sax, released all over Europe, and Funky Superfly. He also produced US singer Tameka Starrs single Going In Circles, always for Irma Records, still a classic in the downtempo/r&b field. In the second half of the nineties Luca began to produce acid jazz bands like Bossa Nostra, still today one of Irma Records main acts. Their first album had Vicky Anderson as special guest and today is still considered one of the most important European acid jazz albums. In the following years he concentrated on developing his activity as collector and rare vinyl merchant, which gave him the chance to get in touch with djs from all over the World and to discover many forgotten gems from the past years. Thanks to this experience he was able to create two extremely successful rarities series on Irma Records: Groovy and Suono Libero. In the meanwhile LTJ started to dj outside Italy too, performing in important venues like the Blue Note and Jazz Café in London, Giant Step in New York and Montreux Jazz Festival in Switzerland. In 1999 saw the release of his first solo album under the LTJ Xperience moniker. The album was produced with the collaboration of fellow Irma artist and producer Ohm Guru and had Taka Boom and Jackson Sloan among the guests. Two of the main tracks on the album are brazil house classic Sombre Guitar and title track Moon Beat, which became a true hit of the Chill Out genre, featured in dozens of important compilations.
After making countless productions for Irma Records, including their second album When The Rain Begins To Fall (with the participation of the historic Spanish-American singer Joe Bataan), and the recents singles as ORGAN MIND / I LOVE YOU (favorite track by Larry Heard ) & ON THE FLOOR / SOUND MACHINE, LTJ is devoted almost exclusively to re-edit and reconstruct tracks from the past with the addition of sounds and rhythms in post production for labels like SUPER VALUE, SMALL WORLD DISCO, HOT GROOVY RECORDS, OH CRISTO! increasing the production of this new musical genre that is currently defined as beatdown/slo-mo, working with international labels such as Far Out Recordings, Sleazy Beats, Future Classics, E.A.R. Music For Dreams, Apersonal Music, Roam Recordings, !K7, Schema, New Boy Shit Trax.
The latest four CDs on the Irma label "I Don't Want This Groove To Ever End" (2012) "Ain't Nothing But A Groove" (2013) "Don't Let The System Get You Down" (2015) "Beggar Groove" (2017) shows the funkiest and grooviest side of LTJ !
evento facebook
https://www.facebook.com/events/961115297377363/