IKIGAI ROOM BOLOGNA – Venerdì 27 settembre 2019 – William Fowler Collins + Nebulosa (contemporary, ambient) – (Evento a ingresso con contributo libero, riservato soci AICS 2019/20. – Inizio concerti ore 19:00 puntuale. 20 posti disponibili. Prenotazione obbligatoria.) – William Fowler Collins + Nebulosa (già chitarrista di Anna von Hausswolff)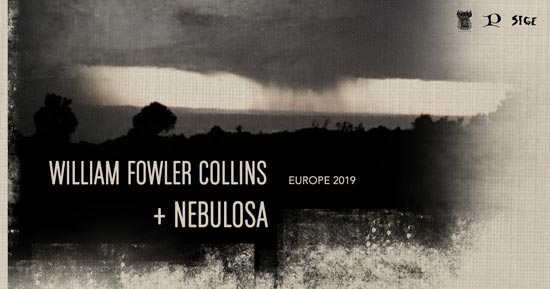 IKIGAI ROOM BOLOGNA
Venerdì 27 settembre 2019
William Fowler Collins + Nebulosa (contemporary, ambient)
(Evento a ingresso con contributo libero, riservato soci AICS 2019/20.
Inizio concerti ore 19:00 puntuale.
20 posti disponibili. Prenotazione obbligatoria.)
William Fowler Collins + Nebulosa (già chitarrista di Anna von Hausswolff)
WILLIAM FOWLER COLLINS
MUSIC:
https://sigerecords.bandcamp.com/album/field-music
https://williamfowlercollins.bandcamp.com/
VIDEOS:
William Fowler Collins at Cafe OTO: https://vimeo.com/wfowlercollins
William Fowler Collins at Courtisane Festival: https://vimeo.com/15502388
William Fowler Collins at The Echo, Los Angeles: https://www.youtube.com/watch?v=cHS6wGZ7oGY
BIOGRAPHY:
Originally from rural New England and now living in New Mexico, William Fowler Collins (b.1974) is an American composer, recording artist, and performer of dark minimalist music and drone music.
Collins has released music on the SIGE, Type, Blackest Rainbow, Handmade Birds, Daymare, Sicksicksick, and Root Strata record labels. Current projects include solo recording and live performance. Additionally, he is co-founder of several active projects including Thalassa with Aaron Bradford Turner, Mesa Ritual with Raven Chacon, and the William Fowler Collins/James Jackson Toth duo. He has also collaborated and performed with artist Claudia X. Valdes. Collins has performed nationally and internationally, in both solo and group contexts, at festivals and venues including KINDL Berlin, Café OTO (London), the Decibel Festival (Seattle), the On Land Festival (San Francisco), the Courtisane Festival (Ghent, Belgium), Netwerk (Aalst, Belgium), The University of New Mexico John Donald Robb Composers' Symposium, The Ende Tymes Festival (NYC), Park Church Co-op (Brooklyn), The San Francisco Art Institute, and many more. He has toured with a diverse range of artists including SUMAC, Jaye Jayle, Jon Mueller, Mamiffer, Daniel Menche, Nordra, Brightblack Morning Light, and Old Man Gloom.
Fans of Eliane Radigue, Christophe Heemann, and Demdike Stare especiallly would be well served to investigate Collins' music and performances.
NEBULOSA
MUSIC:
https://pomperipossarecords.com/products/nebulosa-nebulosa
https://soundcloud.com/joelfabiansson/solitarflackande-vral/s-KG2rm
https://soundcloud.com/joelfabiansson/lamnad/s-STmvX
VIDEOS:
https://www.youtube.com/watch?v=1Q3Mj0Syz-c
BIOGRAPHY:
"Open the gates to the mystical world of Nebulosa. In one long amazing improvisation, morphing sounds and atmospheric drones creep forth from the crocked fingers of the eccentric savant, Joel Fabiansson."
Anna Von Hausswolff – Pomperipossa Records
Joel's own words about the project: "NEBULOSA was a way for me, in live situations, to have all my imagination come to life and to be in control of every nuance of the music. Through improvisation, I am able to create spaces and atmospheres that corresponds specifically with that moment and place in time." – The first album was recorded in a vast church-like greenhouse in Gothenburg during a two hour impro session, surrounded by hundreds of plants and trees.
Joel's work has been much appreciated so far all around the world, both as a contributor and guitarist with the world-famous singer and organ player Anna Von Hausswolff with whom he opened for Nick Cave & The Bad Seeds @ Montreux Jazz Festival 2018 but also as the solo artist NEBULOSA. Nebulosa's first s/t vinyl was sold out in 1 day on Anna Von Hausswolff's company Pomperipossa Records and he did a Southern European tour in January 2019.
evento facebook
https://www.facebook.com/events/2232698610189151/